Quadro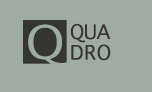 Quadro

Quadro is a young and dynamic company – managed by young people – born with the necessity to offer solutions rather than products. They innovate because they choose to combine noble and sophisticated materials such as stainless steel together with an essential, timeless, archetypal design.
Quadro products are certified according to main internationally relevant testing and inspecting standards regarding product safety and functional integrity. Recyclable materials are preferred as more durable and environment-friendly, and all are subject to stringent quality controls.
The ranges set standards for product design that is sustainable in the most optimal way. The durability of the high-quality materials used, the innovative functional concepts and the archetypical understated design guarantee usability for many decades. We ensure a 5 years manufacturers guarantee on the cartridge, thus providing a serious planning and a very specific time frame.
Baden Baden Interior is a supplier of the products of Gessi
We would like to invite you to our showroom where we can give you professional advice and information. We also have many different samples and materials we can show you.
Showing all 17 results