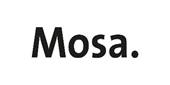 Mosa

Mosa tiles are characterized by high quality and their durable character. The numerous Mosa collections are available in various colors and shades. A number of the series use multiple light, middle and dark tones within the colours, creating a playful and lively character. The possibilities with Mosa tiles are endless.
Baden Baden Interior is a supplier of the products of Mosa.
We would like to invite you to our showroom where we can give you professional advice and information. We also have many different samples and materials we can show you.