Abyss Habidecor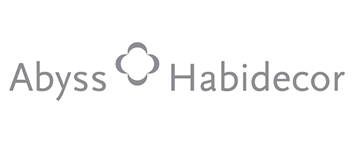 Abyss Habidecor

You will find a wide range of beautiful towels, bathrobes and bath mats, made from 'the most beautiful Egyptian cotton "(Giza 70).
The enormous diversity in colors, styles and designs creates almost infinite choices with which you can combine endlessly. The beauty is mainly in the detail and the available colours. If your colour and size is not amongst the items offered, then Abyss & Habidecor offers almost unprecedented possibilities in manufacturing custom-made embroidery, towels in different sizes, a special form of bath mat based on a stencil or a bathrobe in a different colour, length or size. Almost everything is possible. Standard you can choose from a number of colours, but with some of the items you can choose from up to 60 colors.
Baden Baden Interior is a supplier of the products of Abyss.
We would like to invite you to our showroom where we can give you professional advice and information. We also have many different samples and materials we can show you.
Showing all 11 results